Nice! You made a sale. Now what?
We're here to help you with how to package your item so you can ship it off safely. Each shipping carrier (USPS, UPS, and FedEx) has its own guidelines, and we want to make sure your item arrives to the buyer as promised.
1. Choose your shipping weight
Let's first make sure you chose the right shipping weight. Your shipping weight is (l x w x h) divided by 139.
Here's an example: Say your length is 10 in, width is 5 in, and height is 2 in.
Please make sure you select the correct shipping weight. Sellers may be charged extra if they choose the wrong label.
If your item is over 150 lbs, you'll need to ship on your own. Check out this article to learn how to do this.
2. Pick the right package
Packing with USPS Packing with FedEx Packing with UPS
If Mercari prepaid labels don't meet the packing guidelines set by your carrier, please select the "Ship on your own" option.
If your item isn't fragile or bendable, use an envelope, poly mailer, or softpak (this is perfect for smaller items like clothing). For all other items, use the smallest box you can.
Shipping an electronic or dishes? Use a sturdy cardboard box.
Shipping liquids, perfumes, or aerosols? Liquids (especially in breakable containers) must be separated using padded poly bags or "jiffy" envelopes. Any item with liquids or an aerosol that is hazardous according to the shipping carrier's guidelines must be shipped on your own.
If you're shipping with a USPS First Class 1 lb label, don't use a priority package. Always make sure you have the right packaging for your label's carrier.
Shipping boxes can be reused if all of the markings are removed or covered. This is especially important with hazardous materials labels.
Don't assume the original package is sturdy enough. You should always package the retail box in another cardboard box.
3. Pack your item with care
Make sure you have the smallest box possible for the item and extra cushioning. You should use a cardboard box that's sturdy enough to protect your item while in transit.
If there are multiple items, add at least 1 inch of packaging between items. You'll want to individually wrap each item.
Fill in all the empty space so the item doesn't move. You can test this by shaking the box and listening for movement before you tape it up.
Please remove all hazardous materials labels from your package before you ship it.
If the item's fragile or isn't bendable, you should label that on the package.
Be sure to tape over every opening on your package.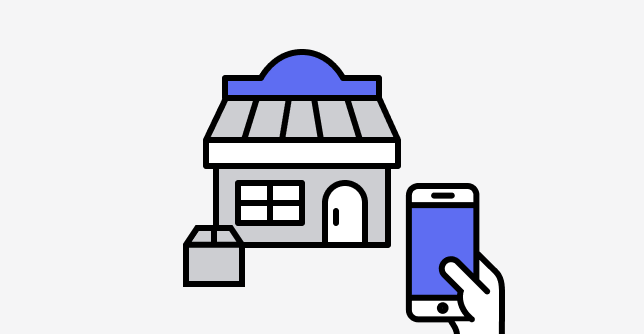 4. Ship your item
Drop off the package at the correct carrier within 3 days of the item's purchase. As soon as you've dropped it off, go to the Order Status page and tap "I've shipped it."
If your package is longer than 45", if the second longest side is longer than 20", and/or your item is over 150 lbs, be sure to ship on your own.
---